Exhibition in Special Collections, Boole Library
Three manuscripts held by UCC will be on display in Special Collections, in the basement of the Boole Library: the Regensburg Fragment, a 12th-century manuscript fragment from one of the Irish monasteries on the Continent, containing part of a litany of saints; UCC MS 96, written by the 18th-century Waterford scribe Labhrás Ó Fuartháin, with a copy of the Fenian text Agallamh na Seanórach; and UCC MS T.i, with a copy of the uniquely Irish Arthurian tale Eachtra an Mhadra Mhaoil written by the 19th-century Cork scribe Donncha Óg Ó Floinn.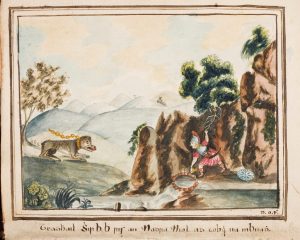 Special Collections, located in the basement of the Boole Library, is open Thursday and Friday, 11.00am-1.00pm and 2.00-4:30pm. Through the kindness of the staff, it will remain open during the lunchtime slots, 1.00-2.00pm, for those wishing to view the exhibition; there will be a 'Closed/Dúnta' sign on the door, but a member of staff will be on hand to welcome visitors.  Delegates should show their conference badges at the library security desk.